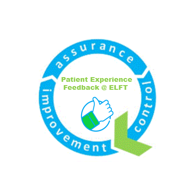 Patient Experience Copy
The patient experience programme is the regular collection of information about service user's experience at ELFT.
Feedback allows our services to improve on areas service users feel is important. Our process equally empowers service users to hold us to account by providing them with a platform to tell us about their experience and sharing the actions taken.
Service users have the option to answer questions on their experience of the care they received which covers the following themes:
Listening
Caring
Respecting
Decision making
Improving
If they would recommend the service to their friends or family
Services can collect this feedback in a variety of ways and all the answers are collected automatically. The QA team's role is predominantly to support services to have processes in place to collect feedback and review their feedback, making improvements where required.