2 July 2020
Call for Service User Participants to Collect Patient Experience Feedback

If you have effective communication skills, a few hours available per week, you have been already trained by the Befriending Service and want to support ELFT services, then the QA Team would like to hear from you!
About the project
At ELFT we support services to collect patient experience feedback. Conducting phone surveys is one of the ways to reach out to patients who may otherwise struggle with using other means to provide their feedback.
We are looking to create a service user participant group who would work with clinical services by helping them to obtain their patient experience feedback via phone calls. This is a great opportunity to support our organisation from your home, in your own time, and you will be reimbursed for your work (£15 per hour) via the Reward & Recognition scheme
Our Patient Experience survey contains 7 questions which focus on the quality of care provided. You can see access the survey on the ELFT website
What you need to know before signing up?
This project is separate from the Befriending Service. If you decide to join the project, please note, you will need to manage your time carefully and not commit to conduct patient experience feedback surveys on the week you have already agreed to do Befriending calls.
You will be liaising with ELFT staff from across the trust
You will be given a temporary @nhs.net email account
You will need to use the Microsoft 365 online platform to access the data. If required, a short training session will be provided to you by the QA team.
What does the process look like?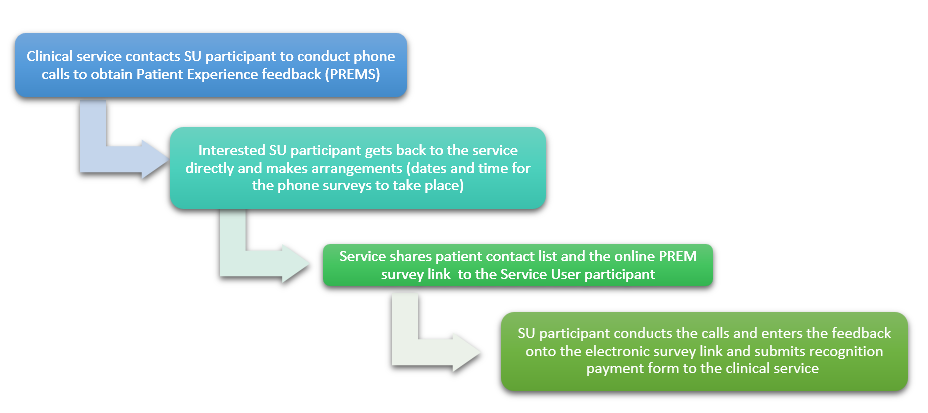 What would we expect from you?
To be trained by the Befriending Programme which equips you with skills to conduct phone conversations
Have DBS (Disclosure and Barring Service) checked as part of the Befriending Programme
Understand data protection principles and ensure you treat information in a confidential manner in line with ELFT policy
Have basic IT (Information Technology) skills (opening online files, entering survey answers onto the online platform)
To be interested in working collaboratively and respectfully with clinical leads and the Quality Assurance team
Act in a professional manner, and treat everybody with respect and kindness
What can you expect in return?
Reimbursement for your work £15 per hour by the service on which behalf you would collect patient feedback.
Brief induction into the project by the QA assurance team accompanied by a 'How to' guidance document.
Work closely with the Quality Assurance team and our Service User Lead to learn about the work we do and what other opportunities there may be available for you to get involved with.
Professionalism and be treated with respect and kindness
If you are interested and would like to join the project, please fill this form and we will get back to you. For more information contact QA team on elft.qa@nhs.net providing your name and phone number and we will get back to you.